WELCOMING NEW PATIENTS! MOST INSURANCE ACCEPTED.
Dentist Aiea, HI - Gale Marana DDS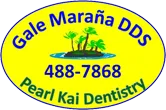 From first visit with Dr. Gale Marana, Pearl Kai Dentistry, Aiea Dentist, she is committed to your individual attention and strive to provide personalized oral health care tailored for your unique dental needs and goals. Dr. Marana and staff work hard to create the ultimate stress-free and comfortable dental experience. Your health and comfort are our top priorities, and we do what it takes to help every patient understand their symptoms and treatment options in a relaxed office setting.
It is our mission to educate and provide our patients with the best dental care in Hawaii. For that reason, we've designed this website to provide you with all of the important information you need to make healthy decisions about your teeth and gums. We encourage you to browse our office page, service details and patient education library whenever you have a question about our practice or your oral health.
Mission Statement
Our practice is working together to a shared vision of uncompromising excellence in dentistry.
To fulfill this mission, we are committed to:
Earn the trust and respect of patients, profession, and community
Guide our patients along a path of optimal health and wellness for life with an emphasis on dental health
Listen to those we are privileged to provide dental treatment
Non-judgmentally deliver the highest possible level of care with empathy and understanding
Ensure a creative, comfortable and compassionate professional environment
Consistently deliver more than would reasonably be expected
Achieving quality dental care shouldn't be complicated, so at Pearl Kai Dentistry, with Dr. Gale Marana's gentle and caring touch and efficient staff, we make it simple to achieve your healthiest, most beautiful smile. Whether you are looking for information on cosmetic dentistry services like teeth whitening, crowns and bridges, preventive care or dentures, you can learn more about all of your options from our services page. For your convenience, you can also request an appointment online with our dental office and download patient forms directly from our website.
Why Choose Us?
Welcoming New Patients
Weekday and Saturday Appointments Available
Professional, gentle and caring Dentist and Staff
Comfortable & Clean Office
State-of-the-Art Office
Digital X-Rays
Most Insurances Accepted
Feel free to contact our Aiea office at (808) 488-7868 with any questions. We look forward to making each visit to our office a positive experience.